Promote and monetize your series
Capture audience interest, encourage social hype, and distribute your content — from your own domain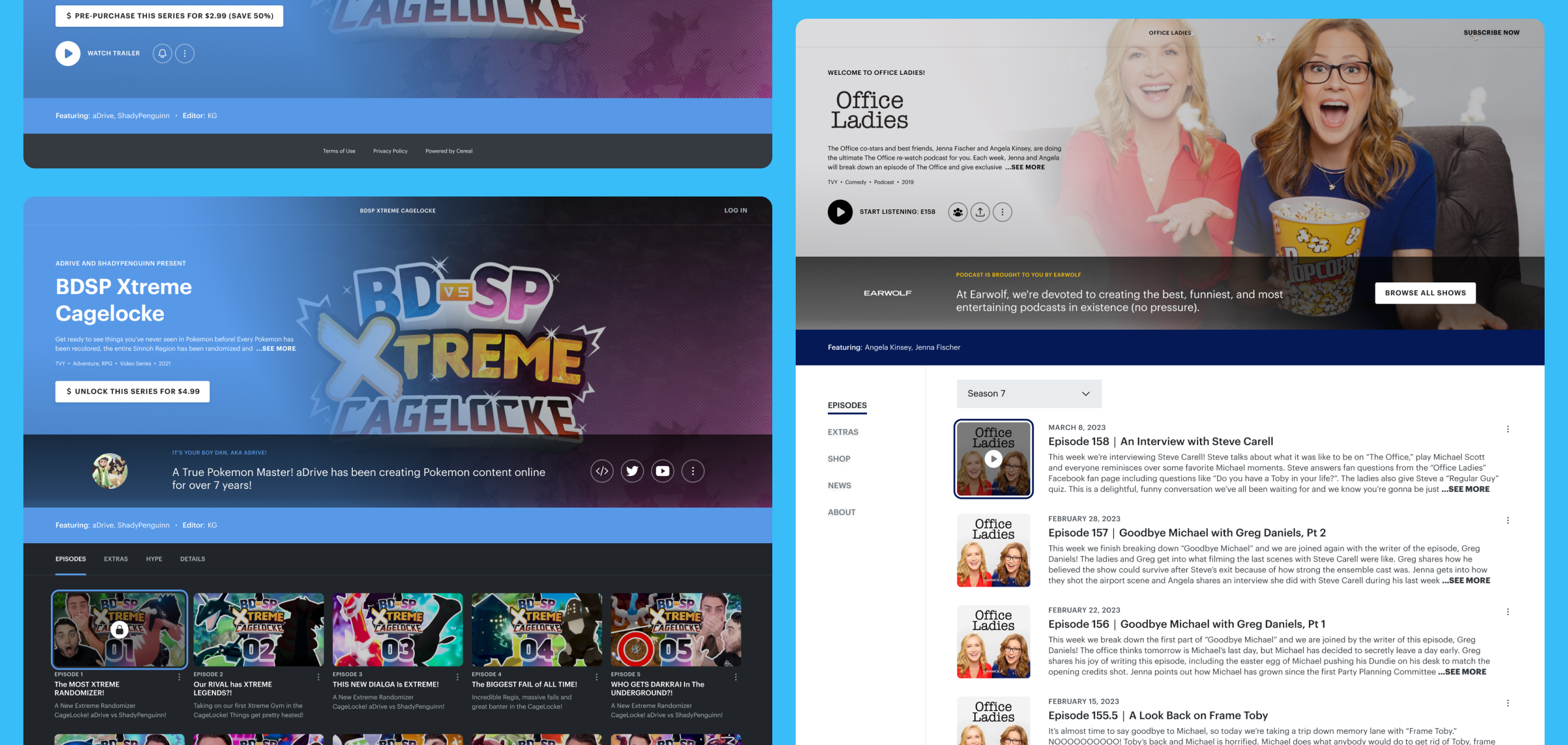 Showcase your work with ease
Let an AI model trained on hundreds of thousands of designs and data-points create an amazing website for your show.
Prelaunch perfected

Capture interest, build an audience, and even help finance your show before launch

Create virality

Built-in features and tools encourage your audience to share and discuss on major social platforms

No code needed

Generate with AI, sync or upload your content, set access conditions, and customize as you like
Perfect for any kind of show
Loved by creators of all shapes and sizes
It's a luxury to have a HOME for your content that you own. Where everybody can embrace the creator without the hassle of ads, or having to go through multiple links. Everything is HERE!

I really enjoy the new website, being able to easily keep track of where I am up to on each series has been extremely convenient and I'm also a big fan of the layout.

As a content creator, Cereal has been a life and time saver. I'm able to easily curate content to my fans in a way that's convenient and accessible. The ability to customize Cereal to fit my needs and my channel is what really sets it apart. An absolute must-have tool in any content creators toolbelt.

Cereal is a game changer! Wish more content creators would try it out!

Once I started using Cereal, I never looked back. Having a clean and professional website to release exclusive content was a no brainer! The team is a dream to work with to boot!

Out of all the competitors I've used, Cereal is definitely the easiest to set up and the most creator-centric website builder out there.
Creating a Show doesn't get any easier. Launch yours today!